1 fatally shot at Black lives Matter protest in Louisville, Kentucky
A Black Lives Matter protest in Louisville, Kentucky on Saturday June 27, ended violently as as one person was shot dead and another injured.
Louisville Metro police said they received reports of shots being fired at Jefferson Square Park around 9pm. They also received report of the Jefferson County Sheriff's Department performing life-saving measures on a male who died at the scene.
The police department tweeted;
"Calls then came in that Sheriff's Department personnel were in the park performing life-saving measures on a male who eventually died at the scene."
A video which went viral on social media, showed an unidentified man shooting into the park where anti-racism demonstrators had gathered to protest against the death of a Black woman, Breonna Taylor. Protesters have gathered for weeks at the square over the killing of Breonna Taylor, a 26-year-old African-American emergency medical technician who was fatally shot by drug investigators during a no-knock raid on her home.
The footage later showed at least one person bleeding profusely on the ground. Security officials did not release additional information about arrests, possible suspects and the victims' identities and ages. QUlNT0N @QUlNT0N
SHOOTING at Jefferson Square Park in Louisville Kentucky @ the #BreonnaTalyor Protest.. 1 Dead 5 Injured..
Louisville Mayor Greg Fischer who reacted to the shooting, said he was "deeply saddened by the violence." He tweeted;
I am deeply saddened by the violence that erupted in Jefferson Square Park tonight, where those who have been voicing their concerns have been gathered. It is a tragedy that this area of peaceful protest is now a crime scene

My thanks to the first responders who assisted at the scene. I will have more to say tomorrow, as additional information becomes available.
LMPD officers are downtown without their name badges present! Asked an officer why, see his response below!! Without a name badge the community cannot file a formal complaint on a police officer with the Louisville Professional Standards Unit!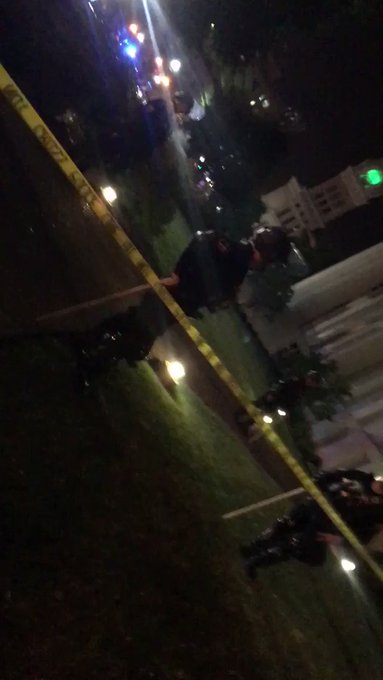 This is the second shooting recorded in nearly a month of protests in Louisville over Taylor's death. On May 28, seven people were wounded in a shooting which occurred near City Hall.